2017 Social Security Benefits….WE ARE SCREWED AGAIN….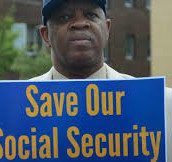 Social Security Beneficiaries to See Paltry Increase in 2017This small sum may be eaten up by higher Medicare premiums.
by Eileen Ambrose, October 18, 2016 AARP
RE-Posted by ric dalberri, RetirementUSA.com
This small sum may be eaten up by higher Medicare premiums.
"Over the last five years, Social Security COLAs have remained small or nonexistent at 1.7 percent or lower, even though every cent can matter to beneficiaries and their families," Jo Ann Jenkins, AARP's CEO, said. "After last year's zero COLA, this year's announcement doesn't offer much help to the millions of families who depend on their Social Security benefits. As prescription prices skyrocket and Medicare premiums and other health costs increase, many older Americans have understandable concerns."
The annual COLA is designed to prevent inflation from eroding Social Security recipients' purchasing power. The Social Security Administration calculates it by comparing the third-quarter inflation rate — as measured by the Consumer Price Index for Urban Wage Earners (CPI-W) — to the inflation rate during the third quarter in the year a COLA was last determined.
If there was measurable inflation over that time, beneficiaries receive a COLA. If prices remained flat or even fell, there is no COLA.
Social Security announced other changes Tuesday. Beginning next year, the amount of earnings subject to Social Security tax will go up from $118,500 to $127,200. This change will affect about 12 million of the 173 million workers who pay into the system.
The COLA also will have an impact on Medicare Part B premiums. Premiums for 2017 haven't been announced yet, but the Social Security Administration warned: "For some beneficiaries, their Social Security increase may be partially or completely offset by  increases in Medicare premiums."
When there isn't a COLA, Part B premiums remain flat for about 70 percent of Medicare beneficiaries. The burden of higher premiums then falls on the remaining 30 percent, which includes new beneficiaries and higher-income households.
Last year when there was no cost-of-living increase, Congress stepped in to minimize the impact of higher premiums on the 30 percent as well as to limit deductible increases for all.
AARP and other groups last month wrote to lawmakers asking them to protect Medicare beneficiaries from potentially steep premium increases again next year.
Comments from ric dalberri; IT'S ABOUT TIME WE ALL WOKE UP TO SAVING OUR SOCIAL SECURITY. WE NEED TO CONTACT OUR CONGRESSMEN AND SENATORS.
THANK YOU AARP AND PRESIDENT TRUMP!