2018 Government Shut Down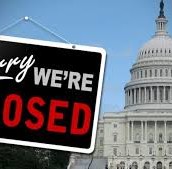 FROM THE TELEGRAPH
NEWS
Posted ric dalberri
January 20, 2018
The US government has started to shut down after Congress failed to overcome a bitter standoff over spending and immigration, marking a choatic end to Donald Trump's first year as president.
Last-minute negotiations crumbled as Senate Democrats blocked a four-week stopgap extension in a late-night vote, causing the fourth government shutdown in a quarter of a century.
— The White House (@WhiteHouse) January 20, 2018
Senate Democrats put politics above national security, military families, vulnerable children, and our country's ability to serve all Americans. We will not negotiate the status of unlawful immigrants while Democrats hold our lawful citizens hostage over their reckless demands.
SHAME ON YOU SCHUMER AND PELOSI.
CRY BABIES COULDN'T TAKE YOUR BALL AND GO HOME!