Best Places to Retire Overseas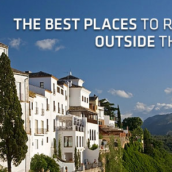 By Ric Dalberri, Founder of Retirement USA
2009
How can I find the best places to retire overseas?
How many of us dream of the best places to retire overseas and then actually retiring to some exotic paradise as we are at work? You may think of the best places to retire overseas as having warmer climate, lower cost of living or just a different journey as life brings about a new adventure.
Turning your dream to reality can be a challenge. The first step (of course) before you say "arrivederci Roma", is to make arrangements to live where you are going to consider living for an extended period of time. For best places to retire overseas is to become a local. Learn the language. There are plenty of language software programs and classes you can find by doing a simple search on the internet.
If you use the internet as a resource, (not just for the latest gossip), you can find probably dozens of forums that will lead you to a community of people looking to move to an area you have chosen, or are already living there. This resource can be invaluable since you can learn from 'insiders' what to expect from the local culture when it comes to housing, clothing, customs, food and the money issues you will face.
Winning the lottery would definitely help you in your quest for living overseas. When money is not an issue, it frees up time to concentrate on other things.
Remember, you're leaving the U.S. and most times will have to adapt to their native tongue. Some areas do have 'pockets' that have many people who have transplanted themselves from the U.S. and found that this is the best places to retire overseas. It certainly would be to your advantage to find an expatriate (expat) community. Have you watched the HGTV shows on International House Hunters?
When doing your research for best places to retire overseas, keep in mind the following.
International living comes with issues you must consider:
Safety, infrastructure (roads, power, drinking water, government), climate, local culture, real estate values, medical facilities, cell and telephone access, internet capabilities, banking, foreign exchange rate, government controls, visas and residency permits, travel back to the U.S. (remember family left behind), shopping, spiritual needs, working (you may get bored of paradise?), transportation, taxes (real estate plus whatever they have), cost of living to name a few.
Before you find the best places to retire overseas, there are things to do.
You may want to sell the home, pack everything and put in storage and set sail in the sunset. As we said before making the final decision, you may be in a position to lease your home for at least a year. You may have a home to come back to if you decide best places to retire overseas is not for you. There are plenty of options. As you dream, don't loose sight of planning. It's like doing an Excell spread sheet.
Best places to retire overseas really means any place off shore of the U.S. The best places to retire overseas could be a short distance or really a long distance to the 'other' side of the world.