Female Retirement Gifts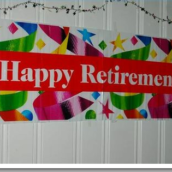 Ric Dalberri, Founder of Retirement USA
2011
So, how is this women associated with you who is retiring?
Co-worker, wife, mother, sister, girlfriend, daughter, a
relative of some sort or maybe a good friend?  Will it be a combination
with a holiday, birthday, or retirement alone? So, now that you have that clear
in your mind, along with a price range, you can consider what will be the
perfect female retirement gifts.
Women in business rarely have to time to relax. It is a very
challenging role since they lead very busy lives.
When we retire, we leave what we have been doing for a long
time. It can be filled with bitter-sweet feelings. So, the best gift for female
retirement gifts is a gift that will interest her.
Usually, for most women, retiring can mean wanting to spend
more time with family and friends, traveling or focusing on an old or a
new hobby. Women who are retiring means that they have sacrificed over
the years and deserve a celebration and gifts. So, choose female retirement
gifts wisely.
There are the usual female retirement gift ideas:
* gift basket
* initialed pen or jewelry
* cookies
* engraved luggage
* personalized day planner
* gift cards ( Visa, Amex, etc.)
There are (I don't know how many) web sites with many ideas.
Most of which will probably be a repeat of many gift items. Again, who is it
for and what price range can you afford?
* a star named for the person
* a professional poem written
* a bound volume of stories from people who she has been
associated
with.
* a travel  trip,
cruise, dude ranch, a spa retreat
You're getting the idea. This female retirement gift
deserves the reflection and respect for all that she has done over the
years that will be a lasting keepsake in mind or in product. Choose wisely.