GET MAD! STOP THE INSANITY OF USING OUR SOCIAL SECURITY $$$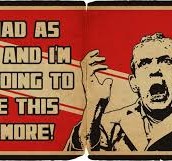 GET MAD! STOP THE INSANITY OF USING OUR SOCIAL SECURITY $$$
ric dalberri, Founder of RetirementUSA.com
STOP!  GET MAD NOW! GET INVOLVED! WRITE YOUR CONGRESSMAN & SENATOR.
They are spending our Social Security money for their use:
Hush money pay out for sex scandals
Over drawn check books
Their Health Insurance; WHY AREN'T THEY ON OBAMACARE?
WHY AREN'T THEY ON SOCIAL SECURITY?
WHY ARE THEY IN THEIR POSITIONS FOR 20-30-40-50 YEARS?
WHY? WHY? WHY?
WHY AREN'T YOU DOING ANYTHING ABOUT IT?
Think about how what we worked for and it is not an entitlement, OUR SOCIAL SECURITY.
It is being spent instead of being paid to us who earned it. 'They' have misused our money. Imagine if 'They' had to be on what 'They' tell us we have to be on:
Social Security
Medicare
Obamacare
Why do 'They' get a pension equal to their salary FOR LIFE?
Why to 'They' get FREE MEDICAL FOR LIFE?
Salary of retired US Presidents .. . . . . $180,000 FOR LIFE.
Salary of House/Senate members .. . . $174,000 FOR LIFE
Salary of Speaker of the House .. . . . . $223,500 FOR LIFE.
Salary of Majority / Minority Leaders . . $193,400 FOR LIFE.
THIS IS SAD…
Average Salary of a teacher . . .. . . . .. . . . . .. .$40,065
Average Salary of a deployed Soldier . . .. . . .. $38,000
Here's where the cuts should be made!
Congressional Reform Act of 2017
No Tenure / No Pension. A Congressman / woman collects a salary while in office and receives no pay when they're out of office.
Congress (past, present, & future) participates in Social Security.
All funds in the Congressional retirement fund move to the Social Security system immediately. All future funds flow into the Social Security system, and Congress participates with the American people. It may not be used for any other purpose.
Congress can purchase their own retirement plan, just as all Americans do.
Congress will no longer vote them selves a pay raise. Congressional pay will rise by the lower of CPI or 3%.
Congress loses their current health care system and participates in the same health care system as the American people.
Congress must equally abide by all laws they impose on the American people.
All contracts with past and present Congressmen/women are void effective 7/1/17. The American people did not make this contract with Congressmen/women.
Congress made all these contracts for themselves. Serving in Congress is an honor, not a career. The Founding Fathers envisioned citizen legislators, so ours should serve their term(s), then go home and go back to work.