Grandparents Day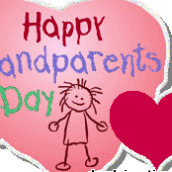 Ric Dalberri, Founder of Retirement USA
2008
In 1970, a West Virginia housewife, Marian Lucille Herndon
McQuade, initiated a campaign to set aside a special day just for Grandparents.
Through concerted efforts on the part of civic, business, church, and political
leaders, this campaign expanded statewide. Senator Jennings Randolph (D-WV) was
especially instrumental in the project. The first Grandparents Day was
proclaimed in 1973 in West Virginia by Governor Arch Moore.
A native of Fayette County, Marian McQuade and her husband
Joe are the parents of 15 children. They have 40 grandchildren, and eight great
grandchildren.
The Purpose of Grandparents day has a three fold purpose:
1) To honor grandparents.
2) To give grandparents an opportunity to show love for their children's
children.
3) To help children become aware of the strength and guidance older
people can give.
Grandparents day
is the first Sunday after Labor Day.
Some grandparents may have large estates that may require a trust that you may want to include as a clause:
'Bloodline'.
Be sure to seek the advice of a tax attorney to ensure what you want done with your estate.
Mrs. McQuade has worked in several states with
seniors
In 1971, she was elected Vice-Chairman of the West Virginia
Committee on Aging and appointed as delegate to the White House Conference on
Aging by Governor Arch A. Moore.
In 1972, Mrs. McQuade's efforts helped persuade President Richard Nixon to
proclaim a National Shut-in Day.
Having served as President of the Vocational Rehabilitation
Foundation, Vice-President of the West Virginia Health Systems Agency,
appointed to the
Nursing Home Licensing Board and having served as Co-chairman for the
Bi-Centennial Centenarian Search for the West Virginia Commission on Aging,
Mrs. McQuade has dedicated her life to advocating for senior
citizens–particularly the most elderly.
So, not only if you have grandparents still with us, but see a senior, they too
may or may not be a grandparent. Respect our elders and give credence to their
contribution to society. Take time to speak with them. Many will love to share
stories with you. Where would we be without them?