Health Insurance After Retirement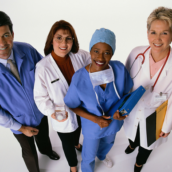 By Ric Dalberri, Founder of Retirement USA
December 2011
Will You Get Health Insurance After Retirement?
Most workers receive health benefits while employed. Lately, due to the economy, many employees are without health insurance after retirement benefits or have to pay for all or part of the cost. If an employee retires, so do the health benefits unless you were employed with a municipality or union that carries extended health benefits. These extended health benefits provide you with health insurance after retirement. So, many employees are extending their retirement to 65 to receive Medicare or stay on a spouses' medical coverage.
The Consolidated Omnibus Budget Reconciliation Act of 1985, also known as COBRA, requires employers with health plans and employ 20 or more employees must offer coverage to workers who leave the employer for up to 18 months and 29 months for disabled workers.
These employees must pay into COBRA when they are separated to keep health insurance during this time period. These plans are more expensive than a regular plan while still employed. They can range from 1.5 to 3 times the cost. For some, this is their only choice so they can maintain health insurance after retirement. This will extend their benefits to continue treating pre-existing medical conditions that are still ongoing even though working has stopped.
Does Medicare provide health insurance after retirement?
So, after 65, Medicare, health insurance after retirement, becomes available. Even if you don't want it, (you must be covered by another policy on your own or spouse) you must decline Medicare. If you don't and apply for it at a later date, you will be penalized by paying a higher premium. As Medicare, health insurance after retirement, is very important for us to have, it will not pay for everything. You may have to supplement with additional health insurance after retirement. So, you still have to comparison shop. All insurance must comply with the National Association of Insurance Commissioners to conform to uniform coverage provisions.
I can't find a policy that will give me health insurance after retirement, now what?
If you can't find a policy (group or individual) health insurance after retirement, see if any professional or alumni association you can join or are a member of offers coverage. Start a part time business. In some states, companies can apply for group insurance. You can have as little as one in your 'group' or company and receive group rates. This little trick can enable you to continue on with health insurance after retirement.
If you are set to retire, a company that you can start pretty easily is a 'consulting' firm. Most State laws are pretty loose about requirements for starting a consulting firm. Most of the time it is just applying for a license (typically $35-$100 a year). Start an LLC, open a bank accoungt, get some business cards and away you go.
You have a career behind you with knowledge and experience. There are a lot of people who need advice, experience and knowledge that you can provide. This may or not lead to a real money making venture, but it could enable you to establish yourself as a business. You might be able to consult to people who are also leaving the workplace and entering retirement. The could use your knowledge to make the transition easier, especially with information on how to maintain health insurance after retirement.
If you are one of the many Americans facing mandatory retirement, then you already qualify for Medicare. Not to worry. Keep in mind it takes at least 3 months to fill out the paperwork, and get all things in order to start after your required birthday, so plan ahead.
Many financial specialist and planners say the best option for health insurance after retirement may be to return to work part time for a company that offers benefits to its part time employees.