Relocating to Florida ? Location, Location, Location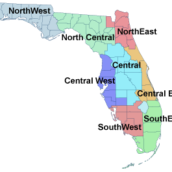 By Ric Dalberri, Founder of Retirement USA
2010
You've heard these words before. How true with any purchase of Real Estate, particularly in this market where expert say it can take as long as 10+ years to get back what many paid for their homes. Florida is vast in different housing and area's.
Florida can be upscale, quiet & laid back. With culture or without. Transportation or not. Shopping close by or miles away. Rural or city. Exciting or not.
Water is all around Florida and within Florida. Do you like boating, fishing or water sports? Living close to the water brings with it as anything, it's own challenges. For example, flooding, hurricanes, mold, corrosion, gators.
Do you want to live in a retirement community. There is a false idea that Florida is only for retireee's. The median age is in the 30-40′s. Do you like golfing, swimming, tennis. It's available all year. If you move to a tourist area, expect traffic & extra lines when going out.
As far as the weather is concerned, most of the year it's beautiful. During the summer, particularly June, it rains most every afternoon for a bit then the sun is out again. The winter can get to freezing (many don't realize this) and is welcomed by many residents. From June through November is hurricane season.
As location is important, so is research. Go visit the area's you're interested in. Buy the local papers and visit the Chamber of Commerce as well as the Police station to check out the crime. Get in touch with the State itself for it's demographics. They'll be happy to send you info.
Purchasing Your Home.
Condo, single family, townhome, manufactured home, attached home, one level, two levels? Will you purchase in a development with cookie cutter syle homes known also as tract housing? Will it have a home owners associaiton ? Yes it will. What are it's rules and regs? Some dog breeds are not allowed or pets over a certain weight. What color do you like your house painted? It may not be a color the association approves. Do your homework.
There can be many restrictions from zoning ( with only a certain number of acres per house to zero lot lines) . You may have a trailer home , oops, a manufactured home next to you on the next lot. How about a condo unit? Outside your walls is common area's which belong to everyone. So if there is a problem or additional work to be done and it's not in the budget, you will be assessed and it will be shared with all owners.
Always be sure that there are no special assessments coming up for future payments. Have an inspection done by a qualified home inspection service. You can get an idea of what you're in for even though the real estate is being sold 'as is'. See if the homeowner is willing to hold paper…Some of the mortgage.
Be sure what is included in the sale of the property as you walk around. Take pictures, notes, ask questions. You can always negotiate the realtors commission. You never know if you don't ask.
Once You've Closed and You Now Own
Before you move in the advice is to have it professional cleaned from top to bottom and have it professionally exterminated. Also be advised that there is a Homestead Exemtion for your Real Estate Taxes. You must apply by a certain date to get the exemption for the year. So, I.E: If you move into your home in August, you have Jan – March to apply. Unfortunatly it will not apply to the year you moved in, but the following full year which is a $25,000 exemption. When you're 65yrs you can apply for additional exemption or if blind, etc.
Florida is a great place to travel within with a lot of history.
Enjoy your screened patio as you soak in your hot tub with a glass of wine. You deserve it.