Senior Car Insurance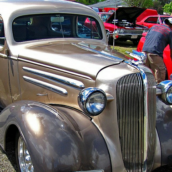 Ric Dalberri, Founder of Retirement USA
2011
Is senior car insurance different than other types of insurance?
Senior car insurance means many details the insurance
company takes into consideration. What are they? Some details for senior car
insurance include the amount of coverage, vehicle make/model/year, your
individual driving record, safety features of the vehicle, mileage on the
vehicle, how many miles you drive per year, traffic infractions, accidents,
your credit score ( this should be against the law), how many years you've been
a licensed driver, your age and so on.
Can senior car insurance can be
denied?
Not because of age. Seniors drive very conservatively, being
very cautious and are considered safe drivers. In some cases, senior car
insurance may require a medical exam to maintain their drivers license. As long
as a senior has a valid drivers license, seniors are entitled to auto
insurance.
Senior car insurance should be determined by you and your
agent with regards to how much driving you do and how far etc. Of course,
senior car insurance must include the required liability coverage required by
the state you're living in (we don't mean the state of confusion).
You may start to wonder if you even still need insurance
once you retire. This is a very interesting question, especially if you own
everything outright. That is when you would want to consider self-insuring.
This can be very risky.
How can you find senior car
insurance?
Shopping for senior car insurance can be to your advantage
since you can do this online. As you  shop for senior car insurance there
are some factors that will help you save money. Let's look at some.
1)   Drive an older model car ( some seniors are
not comfortable doing this in fear of breakdowns, etc.)
2)   You may be able not to have comprehensive or
collision insurance on a new vehicle if you are o.k. with taking
this chance. You may be required by law to have liability insurance.
3)   To save money on senior car insurance,
consider a vehicle with anti-lock brakes, airbags (all sides), automatic
seatbelts, anti-    theft system, etc.
4)   See if your insurance company will take into
consideration a refresher drivers course for you senior car insurance.
There may be many details you have to cover when searching
senior car insurance. See if a friend, family member will help you do
comparison shopping. Every dollar saved is a dollar earned.
We all need extra dollars these days. Happy senior car
insurance shopping.