Senior Citizen Retirement Homes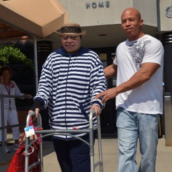 By Ric Dalberri, Founder of Retirement USA
2007
For many seniors in search of senior citizen retirement homes is not an easy undertaking. For those used to city living, public transportation is often the only way to their independence. As we age, senior citizens many times choose to give up driving and rely on public trans-portation. In many area's there are no subways and bus lines are limited. In addition to this, many municipalities are cutting their budgets which include public transportation.
So, when considering senior citizen retirement homes, consider that fact. San Francisco's bus and train system cut ten percent of its service. New York, Atlanta, and Chicago have made major cuts as well.
You may want to consider when searching for senior citizen retirement homes is to consider a multi residence housing facility. Here, you can have a single person or couple apartment style home. Sometimes, this will include in your search for senior citizen retirement homes, facilities for meals, recreation, transportation and health care.
Senior citizen retirement homes differ from nursing homes or assisted living facilities. Senior citizen retirement homes can be retirement villages or a retirement community. Most of these senior citizen retirement homes if not all require a limit of age of fifty five (55) years. Be sure to check who can live with you under that age. If you are caring for children or grandchildren and if they visit. Most visits can be for no more than seven (7) days.
So, when choosing senior citizen retirement homes for you, consider the following:
FAMILY:
Are you willing to leave family, (immediate or extended), aging parents, children, grandchildren? If you are in that position, will you have room for them to stay a period of time? How about children still in school?
Contact the U.S. Department of Education (for public schools) to see how the area you are contemplating measures up to your expectations. Of course there is always the private sector for schools.
HOUSING:
When searching senior citizen retirement homes, The National Association of Home Builders, publishes a spreadsheet that shows the affordability of houses around the country.
LOCAL TAXES:
Just because you found that perfect senior citizen retirement homes in your perfect price range, it may not be what you bargained for. Taxes might be very high. Not just real estate taxes. Look at sales tax or tangible and intangible taxes, etc.
COMMUNITY:
What kind of demographics are you looking for in your senior citizen retirement homes? Neighbors? Convenience? Do you want zero lot lines between your house and next door or do you want five acres? The Census Bureau's Quick Facts web site will show you population, income, business information for all counties in the United States.
Get a sense & feel for where you want to move. Call the local Chamber of Commerce or view the local newspaper online. See if there are local chat message boards or local web sites. Check with local law enforcement for safety & crime in the area. The F.B.I has a crime reporting system that they release annually.
TRANSPORTATION:
How do you get where you want to go while living in your new senior citizen retirement homes? Remember what we stated above.
Are you willing to drive everywhere? Check out those gas prices.
Does the area you are looking at in your senior citizen retirement homes search have public transportation that is convenient to do grocery shopping, travel to the mall, take you to the cruise ship? What about airports? International or domestic? The FAA has maps showing major U.S. airports with links to smaller or regional airports.
Don't forget the train or bus lines.
FAITH, RELIGION & SPIRITUALITY:
Going to your house of worship when considering senior citizen retirement homes can be a great way of breaking into the community. Usually, you will be welcomed and start new friendships with those who have the start of something in common.
HEALTH CARE:
As we become wiser (certainly not older), we become wiser to our health needs. hospitals, doctors, health practitioners. The American Medical Association web site can help you locate what you're looking for in your senior citizen retirement homes search , particularly if you might be facing a medical challenge or specialty.
WEATHER:
Neither rain, nor snow or sleet……..Oh, yeah. That's the postman's creed. Do you want to live & play in snow or at the beach? As you progress with your senior citizen retirement homes search, you can certainly check the weather patterns in the coldest months (Jan-Feb) & the warmest months (July-August) to the area you are considering. The local Chamber of Commerce & online weather channels can assist you in your decision.
CELL PHONE COVERAGE:
Check it out with your current service. What's involved of keeping your popular cell phone number or going through the anxiety of letting everyone know your new cell phone number. The cancellation of a contract, a new contract, area coverage. Do you plan to be a world traveler with needed coverage or just local? Dial up the coverage maps for AT&T, Sprint, T-Mobile, Verizon or your current carrier.
FOOD:
General grocery shopping is fine. However, what about; seafood, vegetarian, kosher, deli, farmers market, green market, organic market, specialty markets? Dining out…….how far do you travel to your favorite restaurant or Starbucks?
RECREATION-LEISURE-FIESTA:
What are you going to do with all this FREE TIME, now that you have settled on your senior citizen retirement homes, you now have on your hands? Golf, walking, beach, skating, cruises, gardening, traveling, cleaning your house, become a dog walker for the neighborhood, become a volunteer (so many needed)?
Did you know that there are garlic festivals all around the country? What about wine tasting? You can check online by using the key words to your desired activity. One thing for sure as you choose your senior citizen homes, look to see if there are certain gatherings in your prospective new address that might be a little overwhelming for you. Some events happen in certain areas of the country during certain times of the year.
It's easy to find a movie theater or a video rental store. What about the likes of local community live theater (dinner or not), symphony orchestras, dance companies, museums, free local tours, mall shopping.
JOBS:
WHOA! Hold on a minute. I want to go into my senior citizen retirement homes and not work. I've done my time you say. You know what is said about idle hands……. You just may want to keep those hands busy now that you realize you're not a couch potato. So, maybe a part time position is in the cards…..mmm, a dealer at Vegas?
EDUCATION:
Ready to explore new interests or a degree? Want to study rocks……… archaeology or diamonds, they are a girls best friend. Continuing education just might be for you. A new language, become a tour guide.
LIBRARIES:
Sure there are bookstores in every mall across the country. Have you considered used book stores, libraries and their resources? Many libraries offer free classes, book readings & senior activity. Glow little book worm, glitter, glitter.