Senior Nursing Home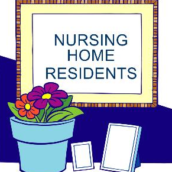 By Ric Dalberri, Founder of Retirement USA
September 2010
Today, there are many choices when it comes to accommodating seniors in need of elder care, from a little care to full time care. The alternatives can range from places to live to the amount of care needed. During the final treasured moments, hospice may be needed. It almost seems like we're taking a journey, walking down steps, one step at a time.
In Home Health Care:
It's usually a fact that we do feel more comfortable in our own environment. We would want our loved ones to stay as long as possible. If you are the care giver, there are times you will need for yourself, running errands or just some time for yourself. At this juncture, a Respite Care service can come into play. They provide the needed activities or personal attentions for the patient. You may have to modify the home to accommodate the patient. There are Federal, State & local programs to provide assistance. Here is a short list of modifications:
* Handrails on both sides of steps
* Grab bars in bathroom: shower, toilet, tub
* stool or chair in shower
* hand held shower head
* walk in tubs
* sliding or easy access kitchen cabinets,
* electrical outlets
This can help promote independent living. Simple modifications to look for are:
*Design that is universal
*Adapting to have these modification changed if need be
You may want to consider downsizing your living space to a retirement community. There may be a lot of activities available even in a none
assisted living community.
Before you go to extremes, ask: does your loved one need assistance?
What to look for:
* change in behavior
* cleanliness, hygiene
* forgetting
* tired
* all shades drawn, dark house
* seems not connecting
Whether or not you choose an assisted living facility for your loved one or not at this time, there are many area's in which to prepare for it.
You may want to get everything in place by searching the following services:
* live in home care
* home renovations
* companion services
* homemaker
* personal care
* transportation
* meals
These decisions can be very emotional. Help relieve the stress and anxiety by being pre-prepared.