Should I purchase a house in my retirement?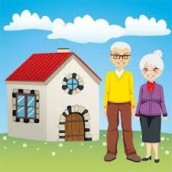 ric dalberri, founder, RetirementUSA.com
Home ownership used to be considered the American dream.  As a baby boomer, it was a goal to own my own home.  Now, many members of the younger generation question whether it is a good idea to buy real estate.
No wonder having watched the housing market collapse combined with difficult job market, buying a house or condo may not be wise.  Homeownership has been steadily falling from it's high of 69.2% in 2004 to a current rate of 65% according to the U.S. Department of Housing and Urban Development.
So, is it a good idea to buy a house or condo in retirement?  This is a question to purchase as a residence, not as an investment.  What to consider?
1. Liquidity: Buying real estate is timely and costly. Don't purchase unless property is expected to be owned for long periods to recoup expenses and not result in a fire sale to get out quickly
2. Return on investment: Real estate has not seen the same capital growth as equities (stock market) in the past 25 years. It does provide diversification and returns by leveraging the purchase with a mortgage.  However, do you really want a mortgage in retirement.  If you sell to scale down and purchase a smaller home, pay it off with your proceeds.  You will sleep better.
3. Personal use value: Living in the home you purchase affords you gain through appreciation of the property and not paying rent that goes to someone else's bank account.
And you thought you were just going to have walks on the beach?